Social Media Buttons: 14 Free Icon Sets for Your Website
The leading search engines have begun to weigh social media and social networking activity more heavily in their overall ranking algorithms. One of the key pieces of that ranking is number and quality of shares via social media and/or social bookmarking.
Moving forward, the importance of social in the overall equation will continue to increase. Links are still the top dog, but social is already poised to be the second-most-important element.
In working with various clients, I often get questions around where to find social media buttons with different styling to them. Most plugins for CMS's use rather standard button stylings. If you want to try something rustic, flashy, 3D, or whatever, you need to find it elsewhere.
Free Social Media Buttons for your Website
In working with these same clients, I have pulled together a decent list of free social media icon sets that you can download and use now. Many thanks to the gracious graphics artists and companies who created these and now offer them for all of us to benefit.
Iconshock offers a great set of social media buttons, and in a variety of sizes. You can grab a package including two sizes only for free, or pay to upgrade to the full kit.
Graphics Fuel often shares samples of icon sets and other creative. This particular set includes 24 social media icons shaped like glass balls. The download kit includes both PSD and PNG formats, so you should be able to either use the PNG's in the format and size provided or open up Photoshop to manipulate the source files yourself.
This one is also offered by Graphics Fuel. I really like the 3D look. The only downside is that this set only includes four icons as shown below. But if you want to keep it simple and focus only on these, grab the PSD / PNG package and enjoy!
Elegant Themes shared a custom social media button set back in April. It includes 42 total icons all in a standard 64×64 size. The download includes both PNG and PSD formats. Here is a quick snapshot of the general look and feel of these social media buttons.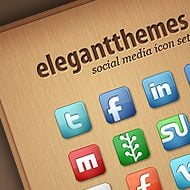 They also posted a new set of social media icons back in July, but these were in a standard 32×32 pixel size, and are also available in both PSD and PNG formats.
Here is another option for snazzy 3D social media and bookmarking icons. Six Revisions was kind enough to share it a couple of years ago, and they even included both the AI source files as well as 256x256px PNG versions.
Another offering from Six Revisions, this is yet another take on the 3D effect. In these icons, the angle is much flatter than in the above. I have a hard time deciding which version I like better, so why not share both for you to pick the one you prefer, right? He included both PNG and PSD formats for this set.
Yet another one shared by Six Revisions, this set of icons was originally designed by Dawghouse Design Studio. These icons are very cool and rustic looking, and are provided in 200x200px dimensions, PNG format only.
Blog Perfume shared this one back in 2009, and the set of buttons is still relevant today. I like them for circular / round buttons, and have considered using them on my own websites. Take a look at the buttons themselves and the sizes available in the image below.
This is a pretty large set of buttons, including designs for no fewer than 126 social media and bookmarketing services. They provide PNG format for all of them, and make both a circular and rounded corner version of each available. If you want a large set with decent rounded stylings, this is likely the right download for you.
Although this icon pack only includes ten of the most widely used social media services, it has a nice streamlined, modern look to it. The designer behind it also included 6 color variations on each of the buttons. The icons are provided in PNG format, sized 420x420px, so you should be able to downsize them to pretty much any dimensions you are likely to need for these buttons.
This set of 64 social media buttons are balloon-shaped and available in multiple common sizes. All are provided in 32-bit transparent PNG format, so you have a lot of flexibility about how and where to use them.
I am a big fan of this icon set. It has the look and feel of paper icons that have been crumpled up and then flattened again – very cool and very vintage. The original designer has made them available in transparent PNG formats, in 128x128px and 256x256px sizes.
This is a pretty deep set of social media buttons as well. 80 services are supported, and the buttons are available in both EPS and PNG format. The PNGs are sized to 16px, 24px, and 32px square. But any size up to 128px is possible using the provided EPS version. This set has been updated multiple times since its original posting, so the author continues to build it out.
Summary
There you have it – 14 free social media button sets to use on your own blog or website. Have you seen any others that merit attention on here? Feel free to share in the comments or forward to me directly. Thanks for reading!
The following two tabs change content below.
As Founder and President of Return On Now, Tommy Landry provides the vision behind our SEO and SEM methodologies. With over 25 years of business experience and a deep understanding of modern internet marketing techniques, he spends his time providing hands-on consulting, insightful content, and engaging public speaking appearances to Online Marketers of all skill levels.
Latest posts by Tommy Landry (see all)