Austin SEO: Professional SEO Services from Return On Now
Your Website is the Lifeblood of Your Business
Your success depends on the success of your website. Are you sure that it is delivering all of the value it should?
Make sure the site speaks to your customers, but structure it for the search engines (Search Engine Optimization, or SEO). The rules change every single day. But with so many demands to stay on top of, most of us are too busy to keep up with Google dozens of daily algorithm tweaks.
---
Leave the Expert SEO Strategies to Us
Our resident SEO expert, Tommy Landry, has over 25 years of experience in marketing with a heavy focus on online. Tommy is so passionate about SEO and Social Media that he reads, writes, and speaks about it on a daily basis. He is well recognized in the Austin, Texas SEO scene as a thought leader and industry expert.
We can help maximize the traffic to your website using all white hat methodologies. And we will help convert that traffic to leads when they get there. With our near obsession over metrics, we will be able to benchmark and track our progress as the program grows.
---
Double or Triple Your Organic Traffic and Conversions
We have worked with clients in a wide range of B2B and B2C industries, including SaaS, Cloud Services, Network Monitoring, Auto Shipping, eCommerce, Enterprise Software, Video Conferencing, Local Services, Cyber Security, Healthcare, Wineries, Fitness, Attorneys/Lawyers, Publishers, Solar Installers, and more. Local clients who stick with our SEO services reap the rewards over time.
Don't believe us? Here are some examples:
326% growth in organic traffic over 24 months

This one had a kicker – the client experienced a 1300% increase in organic conversion volume (13X!). How did we do it? A combination of SEO-friendly content marketing and content marketing boosters (white hat link building).
107% growth in organic traffic in three years

In a similar fashion, we helped this client double their overall lead volume from organic along the way. In this case, we relaunched the entire website, building a more SEO-friendly architecture, kicked off a content marketing campaign, and layered a content marketing booster off-page campaign on top of it all.
85% Growth in Organic in One Year!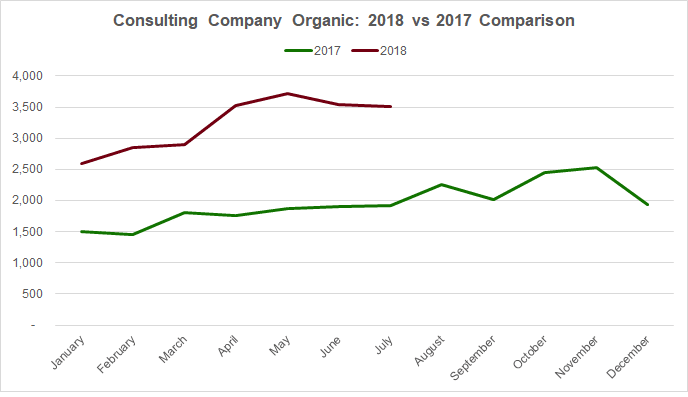 In January of 2017, we launched a Content Marketing Booster Link Building campaign on behalf of a local consulting company aiming to grow their overall organic traffic and conversion volumes on the company website. As you can see in the chart above, we delivered an 85% increase for January to July in 2018 vs. 2017.
Meanwhile, conversion volume for the late spring and early summer of 2018 came in at over DOUBLE the volumes we were seeing in the same part of 2017. So not only is organic traffic much higher, but it's BETTER traffic that CONVERTS at a higher rate. What more could you want?
---
As you can see, our methodologies work. Try out our local Austin SEO Services today and see for yourself. Don't hesitate – contact us to learn how we can help your domain grow as well!
---
Professional SEO Services: Austin SEO Experts
We offer a full range of professional SEO Services that will help get your website on track for growth. Typical SEO projects will focus on one or more of the following disciplines.