93% of marketers worldwide are using social media to reach their target audience. Since the average internet user spends 147 minutes on social media platforms each day, it's undeniable that these efforts will make an impact.
However, we can't claim that most brands have a consistent social media presence, nor that they are doing a great job at differentiating themselves from their competitors.
If you go just a little bit further than everyone else who is doing the bare minimum, you can very easily stand out to acquire and convert more followers.
Here are six simple ways to do it.
Make Sure Your Profile Pages Look the Part
First, you'll need to ensure that all of your social media profile pages look great. Most brands will tick the usual boxes, featuring a profile and featured image.
However, this is not enough. The more effort you invest into this one-time task, the better.
Here's what you need to consider:
Maintain a Consistent Brand Identity
Use the same colors, keywords, and image styles across your entire online presence. Your website and social media profiles need to match, as do all of your various profiles.
Provide Relevant Information
Provide as much information about the brand as you can. Fill out every profile segment, and use the most relevant keywords.
Note that you can (and should) also update all of this information whenever appropriate. For example, you might change your photos seasonally or when you are promoting a specific product or service.
Your followers will notice these changes and likely click on your profile to see what's new.
Pin Posts
Pin the posts that your audience is likely to find the most relevant to the top of your profile. These posts will earn the most views.
Ensure that you are using the correct format for every image you post.
You don't need dozens of hashtags with each post. If you pinpoint the most relevant ones, the right audience will see your content all or most of the time.
Be Sure To Use the Right Presentation
You should also implement the following simple tactics for making your profile presentable:
Cross-Promote Posts
Every social network offers different promotion options, and different audience segments will prefer different avenues of communication.
If you promote your tweets on Facebook and your reels on Twitter, you can easily direct traffic from one network to another.
Check all Links Before You Post Anything
If you are using a "link in bio" tool, make sure you have set it up correctly.
Monitor Your Tags and Mentions
Untag yourself from any posts that you don't want to be associated with. Also, promote and share user-generated content that you do appreciate.
Publish Social Proof
Potential customers will often first notice your brand on social media. To speed up the conversion process and make sure they at least click through to your website, if not also choose to follow you, ensure that all of your critical messaging is on-point.
Your credibility signals are a very important element of that messaging. Without them, the people who come across your profiles may not click through to your website.
If you come off as one of those random Instagram brands that seem to be selling amazing products but are actually a scam, you won't see much traffic.
Consider including product reviews on your profiles. Anytime Baseball Supply does this very well.
Check out this review video they feature on their Facebook profile.
Image Source: Facebook.com
Everyone who watches this video will be reassured that the brand is real, that the product is great, and that they can freely transact with this business.
Plus, they also direct you to their YouTube channel, where you can see even more reviews.
If you want to do the same on Instagram, check out Vaseline and how they incorporate product reviews into image format. It's just an image, but with a lot of credibility behind it, enticing followers to check the product out.
Just one more note about user-generated social proof: make sure to ask for permission before you use a photo or a video shot by one of your supporters.
Here's how Starbucks does it (and, incidentally, Ward Parkway Center as well). They monitor their mentions and ask for re-sharing permission, ensuring their online credibility grows even further.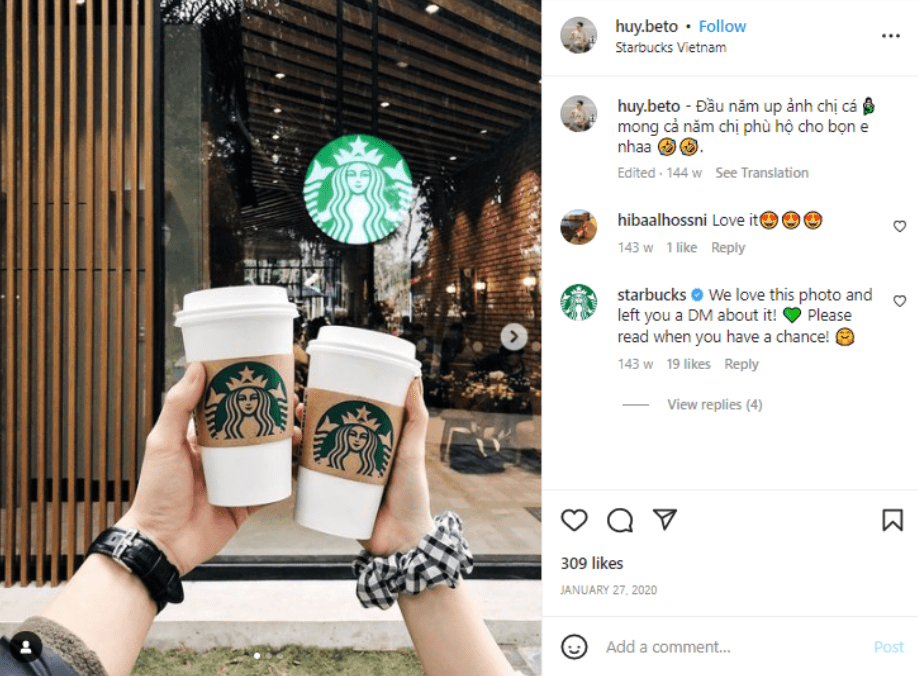 Image Source: Instagram.com
Give Your Brand a Human Face
People don't particularly like doing business with faceless brands. While you may get away with not showing a single face on your website, you definitely need to use social media to show your followers the people who make up your brand.
Every social network gives you a different opportunity to do it.
On LinkedIn, make sure to populate your employee section. Ask all members of your team to create a profile, list their association with the brand, and showcase their own expertise. This will capitalize on the professional credibility of each individual.
After all, a brand is as strong as its employees are. If your staff are very good at what they do, your target audience will trust you more.
Take a look at AMZ Pathfinder and how they structured their LinkedIn.
Since their brand offers a service not everyone will understand, it's important for them to demonstrate expertise. By featuring all of their brilliant staff on their professional profile, they very effectively do just that.
Image Source: LinkedIn.com
Another brand in the SaaS industry that does this brilliantly is Ahrefs. Their Instagram profile regularly features snippets from the office, showing what a day in the tech giant's headquarters actually looks like.
Their YouTube channel is also filled with educational how-to videos delivered by some of their team members.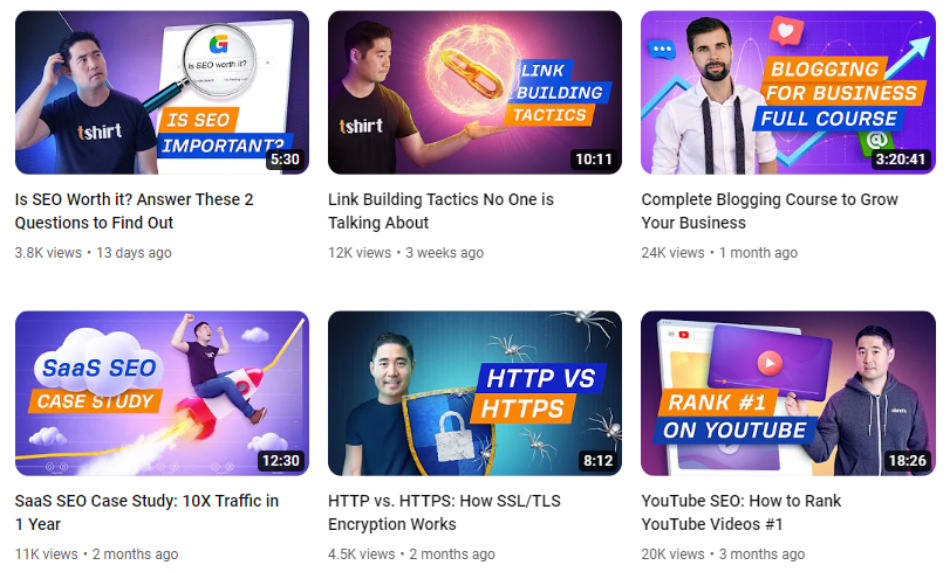 Image Source: YouTube.com
As a long-term Ahrefs client, I can personally vouch for the effectiveness of their social media presence. They are not just Ahrefs to me; they are Tim and Sam and Joshua — people with individual personalities, interests, and expertise.
Create a Community
Social networks also give you the opportunity to build a vibrant community of followers and brand advocates. Facebook is the best place to build this community. Their group options let you manage this type of community very easily.
Since the Facebook algorithm prioritizes group posts in news feeds, you can ensure your message will be seen by more people than your page posts.
You will also have direct access to invaluable market and audience data. Use this data to build actual relationships and forge deeper connections.
You can choose to either keep your group private or make it public. The former is great if you plan to use exclusivity as a promotional tactic.
The latter will require more moderation to filter out the spam. Regardless of that additional effort required, it's a great way to show a larger number of people how you handle yourself online.
Just remember that your objective is to help people and offer real value, and not just to sell products. The sales will come naturally as more and more people understand what you offer.
Sleep-aid manufacturer, Somnifix, offers an excellent example of this approach to social media differentiation.
The brand's "Sleep by Somnifix" Facebook group is populated by close to 2,000 members. These are all people invested in learning (and sharing) how to improve the quality of their sleep.
Image Source: Facebook.com
Sure, there's a slight promotional slant to the group, as Somnifix occasionally posts about their product. However, the majority of the group's activity is presented as objective and instructional.
Find Different Ways to Interact with Your Audience
Social media is great for interacting and forming relationships with individuals. It's not about bulk promotion, nor selling your product or service to the masses.
Interaction is a two-way street. You are not merely trying to inspire people to interact with you. You want to interact with them.
For starters, provide all the support you can. When someone asks a question and tags you, or asks a question on one of your posts, reply as soon as possible. And make sure to do it from the brand account.
Timing is important, as social media is often about immediacy. If you only check your comments once a week, you won't be able to benefit from this opportunity.
The key is in doing more than just responding when someone else gets the conversation going. Quite the contrary: monitor your mentions and insert yourself into conversations, so to speak.
To keep the ball rolling, always end with a question. Ask for your followers' opinions, and genuinely discuss things with them.
Don't aim to be the smartest in the room, don't try to sell anything, and don't try to belittle their views or convince them you are right. Talk to them.
Make sure you have a good tool in place for keeping track of all the times you get referenced online. It will help you tap into user-generated content and connect with people who already like and promote your brand.
Tell Customer Success Stories
Finally, you want to make good use of another type of social proof: the customer success story.
A lot of this content will already be generated by your audience, so all you have to do is share it. You also need to share some of your own.
You can choose to do it in the form of case studies or testimonials, for example. If you already have them posted on your website, the simplest thing to do will be to post them on socials (more than one time).
Check out this Instagram post by SellerPlex. They are enticing you to read the case study in full by giving you only the most important information.
They tell you what the issue was and how they solved it. But to learn about the actual process they went through to help, you need to visit their website.
Image Source: Instagram.com
Kianda has done an entire customer success story series on Twitter. They tagged the participants and packaged it as a video, which is much more clickable and shareable than just the post and link.
When you are selecting the success stories you want to highlight, start by considering your audience and what their pain points are. That way, you'll be able to tell stories that resonate with them the most and boost engagement.
Wrapping Up
If you adopt these six simple ways to differentiate your brand on social media, you can expect to see an increase in followers as well as conversions.
Note, however, that there's no universal recipe. You'll need to adapt each suggestion to your own branding and the expectations of your target audience.
As always with digital marketing, the better you understand the people you are connecting with, the better. A little bit of audience research can go a long way, especially on social media, where one post can gain incredible traction.
---
Feature Image taken as screenshot directly from Instagram.
Disclaimer: The views and opinions stated in this post are that of the author, and Return On Now may or may not agree with any or all of the commentary.
This guest post brought to you courtesy of Return On Now, Professional Austin SEO and PPC Services Company.
The following two tabs change content below.
Travis Jamison
Founding Director
at
Smash.vc
Travis Jamison is the founding director of
Smash.vc
, investing in bootstrapped, online businesses. He love to get nerdy about search engines, and is a proud pug parent.
Latest posts by Travis Jamison (see all)