Explainer Videos: How They Boost B2C Conversion Rates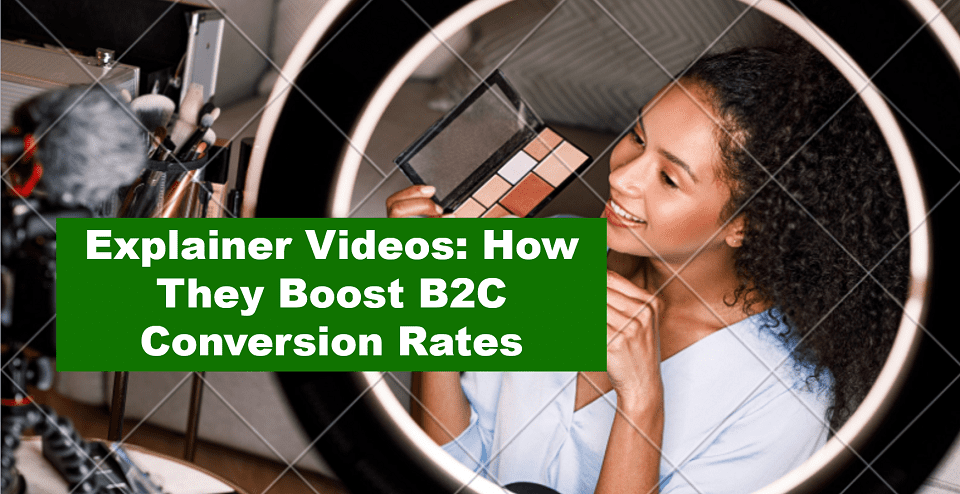 A lot of people think that business-to-consumer (B2C) is 100% different from business-to-business (B2B) marketing. While that is true on many levels, B2C companies can absolutely benefit from understanding what works when marketing to businesses.
Both segments are easy to engage with video content, however, B2C engages more frequently and more deeply with videos.
Maybe it is because B2B buyers have less time to consume videos. Or maybe it is because B2C buys more on gut and emotion.
Whatever the reason may be, videos can help you connect better with consumers.
And better connection will show up in multiple areas, from web traffic to conversions to sales revenue and profits.
Why Videos Work So Well in B2C
Consumers like videos because they are low effort and entertaining. In 2022, consumers spent an average of 100 minutes each day consuming video content online. And as an added benefit, this format can be very educational in nature.
Many companies choose to present information on videos off-site, aiming to land some messages with consumers prior to them even visiting the website itself.
Of course, on-site videos can really help improve things like time on page, pages per visit, bounce rate, and other engagement metrics for your domain (all of which can impact SEO success as well).
Videos can also serve an important role in boosting user experience on landing pages, which can directly impact conversion rates.
Other great locations for video content include product / service pages, blog posts, news / PR items (especially with major product announcements), and the resource library.
What to Keep In Mind With Video Marketing
Unless you are already an expert in hands-on video production, plan to bring in professional help to ensure you get it right.  You are an expert in your core business.
They can help make you look good, save you time, and ensure the best possible quality of execution.
Be sure to confide in them about requirements for things like audience location. Don't forget how much bandwidth a video can take.
If you are servicing customers globally, you'll want to ensure that even remote locations in other countries can access your content without excessive video page loading times.
Why Explainer Videos Are So Popular
Now that we have covered off how useful video marketing as a whole can be, let's turn our attention to the focus of this post: Explainer Videos
What Is An Explainer Video?
An explainer video is typically short and very educational. It may cover product benefits, a company overview, how-tos, and almost any other topic that you want people to understand quickly.
And consumers want to watch these types of videos. Data shows that 72% of consumers prefer to learn about product information in video format.
That is the key benefit of the explainer video format: You can land important information about you or your offering in the shortest amount of time possible.
You may not even need their full dedicated attention with video content. With a good audio track or intuitive visuals, you could make your point with only the audio or visual portion alone.
Everyone is multitasking these days. Your target audience could very well be only looking at or listening to the video while they do something else.
Perhaps they watch without volume while listening to music or a podcast. Or maybe they're scrolling through social media while listening to the audio in the background.
In either case, you can still land the messaging successfully with explainer video content.
What Makes A Good Explainer Video?
To really nail your explainer video format and content, you need to first understand exactly what makes a good explainer video so good.
First, keep it short. Based on industry consensus, you should aim for up to 90 seconds at most.
For other types of videos, you can absolutely aim longer, publish them on a blog post or a YouTube channel, and service the subset of your audience that wants more to watch. But for explainer videos, "short and to the point" is a must.
The video should also be informative, but stay on focus for a very specific objective. You don't want to go on tangents that force the viewer to follow you in circles. They watched for a reason, so give that to them and get it over with.
For this reason, always begin with a key objective, a succinct but clear script, and an idea of the visual approach you want to take BEFORE you begin producing any content.
Particularly on landing pages, you need to stick to the short and focused objective. According to WordStream, you can boost conversion rates by up to 80% on landing pages that include short, engaging explainer videos.
Be sure that the actual experience of watching the video is top notch. You want great visuals and sound quality.
Don't skimp on video or audio production — if you have a great producer resource or vendor, they will ensure you get this right.
Your first impression could very well be the last impression on the viewer if they are underwhelmed by the quality.
You may have the best offering in the market without question, but you'll struggle to sell that product or service if prospects start out with a poor impression of you.
Bottom line: Invest in good video production from the start. You won't regret it.
Examples of Great Explainer Videos
You can find a range of explainer video examples online with a quick search.
Rather than recreate the content that other great blogs have already published, here are a few posts you can check out to see how other companies have approached explainer videos as a marketing tool:
Conclusion: Try Out Explainer Videos for B2C
Explainer videos can provide a huge boost to your conversion rates and bottom line. But you need to ensure they are short, engaging, and professionally produced.
Are explainer videos for you? Most companies should be able to benefit from them.
If you are in a B2C space, particularly ecommerce or another industry where you can convert prospects immediately into customers with the right educational information, give it a shot. This just might be the secret sauce you've been seeking for a boost in your bottom line.
The following two tabs change content below.
As Founder and President of Return On Now, Tommy Landry provides the vision behind our SEO and SEM methodologies. With over 25 years of business experience and a deep understanding of modern internet marketing techniques, he spends his time providing hands-on consulting, insightful content, and engaging public speaking appearances to Online Marketers of all skill levels.
Latest posts by Tommy Landry (see all)