Success in digital marketing relies on many factors. One such factor for success is a solid location-based strategy.
Google My Business is the first place expert SEOs should start in this capacity. Google My Business is the corner stone to this strategy, and for a very good reason.
GMB (for short) is free to use and packs a punch when it comes to local based searches. Reserved for business owners, this tool allows for the management of an online business within Google's map pack, also known as local search results.
Being featured at the top of these results can ultimately result in a business's success 
Think about it…
The local map results are the very first place people see when searching.
According to Denver SEO agency, Infront Webworks, the first position pulls in over 30% of all traffic.
Total click volume subsequently drops off significantly for lower ranking results.
The need to be number one is huge, and the competition can be fierce.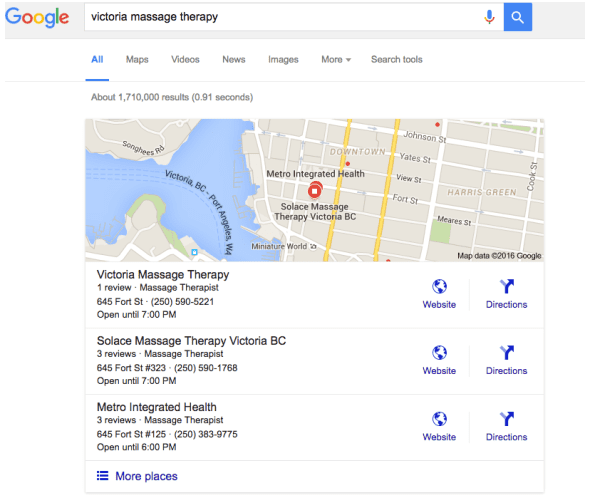 In order to get there, you must keep a few GMB optimization tips in mind.
Google My Business 101
To Google My Business newcomers, you should first understand some important basics in order to capitalize on the below techniques for full optimization.
GMB is completely free of charge. Zero.
But keep in mind that it won't replace your website. That said, if you don't have a website, you can create one right inside the GMB dashboard.
Of course, I always recommend that a business should have its own standalone website. Having this "owned" property looks more professional and allows for more customization from an SEO perspective.
Google My Business Optimization Tips
Add as Much Information as Possible
The key here is to give as much information to Google (and users) as possible. You want to solidify your trust with Google. I can't stress enough how important it is to be as accurate and as truthful as possible with your listing.
You can add a wide range of information, including business categories, hours of operation, and more.
Recently, Google added the capability to include a short blog as well. This can be included right on your listing and shows when your business pops up.
I also recommend you add a plethora of photos and videos of your business and staff. For a more personal touch.
Be as Accurate as Possible
NAP – Not that kind of NAP. This stands for Name, Address and Phone Number.
As a local business, you should make it a priority to add your information to other directories.
This is by far the best way to help improve  your rankings in local search. The important thing here is consistency.
You want to make sure your business appears in directories such as Yelp.
You also need to ensure that the info there (and everywhere else) is EXACTLY the same in your GMB listings. Any missteps here can lead to a lack of results.
Remember we are trying to create legitimacy with Google, and Google hates information that is inconsistent. Even if a misplaced comma is off or if you use "road" vs "Rd.", you will be at a disadvantage.
You will also want to remove any duplicate listings across the various directories.
It will sting to find that you have more than one Yelp listing for the same business, as your local search results could be hindered or diluted from growing.
Be an Active Business Owner
Google wants to know you exist. If they are not able to verify your business, they won't list you. Simple as that.
By showing that you are an active participant, they know you are a real business.
Actively ask for Google reviews and respond accordingly. Always respond positively and in a way that heightens your businesses reputation as a customer service leader. Google will take note.
Add more photos, add blog posts, update hours, and stay connected to your listing. Google will reward you.
Add your Branded Google MyBusiness Map to Your Website
This will link back to your GMB page and give you more credibility. The more places you can embed your map, the better your rankings will become.
This can include directories, blogs, and more.
Directions for Adding a Branded Google Map to a Webpage:
Open Google Maps.
Make sure the map, Street View image, or directions you'd like to embed shows up on the map.
In the top left corner, click the Menu.
Click Share or Embed map.
At the top of the box that appears, choose Embed map.
Choose the size you want, then copy the HTML embed code and paste it into the source code of your website or blog.
Summary
By becoming an active participant with your GMB page and an authority business in your area, you will benefit from better and easier ranking in Google Maps.
Google's mission is to serve relevant and accurate information to its users.
By "telling" Google all there is to know about your business in many different places, including Google My Business, they will be more apt to rank you higher in the search results.
Disclaimer: The views and opinions stated in this post are that of the author, and Return On Now may or may not agree with any or all of the commentary.
The following two tabs change content below.
Mike Tortorice
Mike Tortorice is the SEO and Digital Marketing Manager at
Infront Webworks
in Colorado Springs, CO. Mike has been in the digital marketing space for over 10 years developing sound marketing strategies for thousands of clients in the process. An avid skier and hiker who loves all things digital. Mike's passion is a result of being able to help businesses succeed in the digital landscape.
Latest posts by Mike Tortorice (see all)