To All the Facebook Pages I've Loved Before
I can't remember how many Facebook pages I've set up and administered by this point. It's not countless; I just don't care to count it.
I'm still listed as an admin on a few client accounts and receive those page notifications. I thought it was reasonable to expect that I still had my finger on or near the pulse of the Facebook machine.
(Silly neocortex on legs. How do our robot overlords refer to us?)
It's Their Platform, Not Ours.
That's a mistake I've made before — that I knew what in the blazes was going on.
As an admin working the back-end of a Facebook professional account on a daily basis, you finally think you've figured all their idiosyncrasies, and BOOM! They change something, and you are forced to play "Find the Easter Egg" until you stumble backward into a rabbit hole.
In much the same way, private users get Facebook overwrought at changes the company makes to their platform. It should be a meme.
Google knows. (Google knows everything, don't they?)
The Onion nails it with this headline, "Facebook: 'We Will Make Our Product Worse, You Will Be Upset, And Then You Will Live With It'."
If you think you've been knocked sideways, as a consumer, by Facebook's constant tinkering with their toy, you're in for a treat when you get involved with Facebook Pages.
Again, I'm sorry. But, as we've discussed, it's become less of a nice-to-have and more of cost-of-doing-business, like haircuts and dry cleaning to an office worker, or tools and a pickup truck for trade workers.
Derp!
You may have guessed by all this set-up that I did not, as it turns out, have my finger anywhere near the pulse of Facebook.
In the interest of best serving you, my dear reader, I set out to create #AnotherBloodyFacebookPage. That way I can ensure that my screenshots were current as of one day in late February, 2016. I no longer cherish the old brilliant innocence that my screenshots will be worth much anytime outside of a 3-day time span.
Therefore, read quickly, you guys!
What Do I Make My Page About, Though?
Well, in theory, you should already know that. You're a private practitioner, small business owner, mom-and-pop shop, main street business, eCommerce store selling services or products online, or an old-school brick-and-mortar establishment. There are too many possibilities of what you might do and sell, so many that I will not be able to advise directly to them all. I've got to trust you, my readers, to figure that part out.
And, you will. But, what should I make my new page about? The one that I'm making just so I can get the snazzy new screenshots.
As it turns out, I've been moonlighting on Return On Now. I've been writing under a pseudonym somewhere else about the very personal "business" of grieving and moving on mother-less. I decided to make a Facebook page for that endeavor because… Reasons, ok? Just reasons.
All that to explain why I've whited-out references to this exact page because I'm not ready to come out yet. (If you are genuinely interested, approach me and ask nicely, and we can talk.)
Step-by-Step Setting Up Your New Facebook Page
Open your own personal Facebook account in a new browser tab. (You do have a personal Facebook account, right?)
Click on the down arrow to the far right.
In the drop down menu, choose "Create Page." So far, so good, right?
Now, you get to choose what type of page you'll have.
Take some care in this section. Fritter around and click on all your choices. While it only looks like you have six, the reality is that you have many more options to pick from.


Each of these tiles has its own submenu with even more options. Here are three to give you an idea what to expect. Feel free to play along in a separate browser tab.
As you know, I'm a blogger. Naturally, the page I'm setting up is for a blog. Not this blog–Return On Now already has a Facebook page.
Once you choose your type of Facebook Page, name it.
I'm using the name of my blog, which I've greyed out from these images. After all, you'll have a different name.
You will need to read and agree to the Facebook Page Guidelines. Then click, "Get Started."
Add your very best copy for the description.
See the bit about the page name only being able to be changed once? Doesn't it seem like you already gave them a name? You did. Give it again. You've got room to change it in the future as your business evolves. Just once, though.
I'll leave the next two screens as an exercise for you, dear reader.
Alert! Alert! Warning klaxons! We've buried the lede!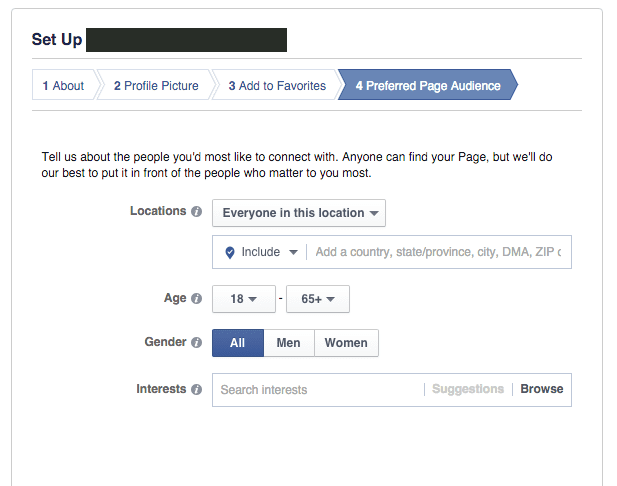 Play with this feature for a bit. Sure, you can target by location. Sure, by age. Sure, by gender. Whatever. That's NBD, you guys. (No Big Deal)
What's the Real Reason You Need a Facebook Page?
Drumroll Please. … It's the Preferred Page Audience Capability.
In the Interests box, start typing something that's apropos to your business and prepare to be

This dialog box will auto-suggest based on what you start typing. You can't begin to get your head around what's out there, related to your little nichy-niche, until you try it.
Facebook has over 1.5M active monthly users. And most of us have willingly revealed more about our personal lives to Facebook than we have to our own families.
When someone suggests that the government should have access to this level of info about us, we get all tin foil-hatty and off-griddy. Facebook knows when you're naughty or nice. Knows your monthly cycle, male or female. Some even think they track your moods. Read all the think pieces about the new emoji feature that lets us do more than "like" posts. Oooooh, emotional literacy. Here let me Google that for you.
Facebook is to marketing what surgical drone strikes are to modern warfare. (Too much?)
Okay, pick your jaw up off the floor, and let's keep making our new page.
Follow the set-up tour.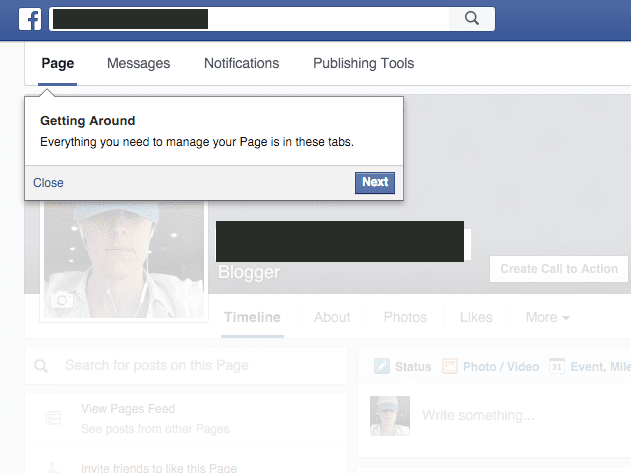 Helpful hint: Your Page ID # is in the browser bar.
You'll want to jot that down somewhere. You never know when you'll need super obscure things like that. They're like API keys and can be devilishly hard to find when you actually need them.
Add a cover photo.
The cover photo is the big spread across the top. The profile picture is the one that shows up next to your every comment, reaction, post, update, etc and so forth, across the platform, when you use it as your Page.
When you use FB as yourself — which you have to do before you get to make a Page — you'll see that profile pic. There's a toggle to change how — or as whom — you're using Facebook. We'll look at that in a future post.
Follow the bouncing ball.
I'm getting bored with this step-by-step, are you?
Basically, Facebook walks you through it, because the better your page is, the more you'll like them and what they can do for you — which is target, and serve your content, to potential customers. And, the more likely you'll be to pay them to do more of that.
In our next post, I will show you some things that you might not find as easily on your own. Also, I'll step through some of the easier things just so you can see screenshots and have a point of reference in case something goes ker-flooey.
One last thing, this might come in handy for you — Facebook Pages: Sizes and Dimensions. This will help you know exactly what Facebook wants sizewise for each and every type of image. It is from this FB page that I've screenshotted our featured image.
---
Surprised baby image source: Pixabay user amyelizabethquinn; Public Domain
The following two tabs change content below.
Suzanne Hoenig
is a strategist and writer helping small businesses, nonprofits, and private practitioners craft their marketing copy, grow their online and offline community, and navigate the changing tides of social media and digital content marketing.
Latest posts by Suzanne Hoenig (see all)