We work with a range of client types here at Return On Now. At least once per quarter, we run across a situation where there is almost certainly a Negative SEO attack either underway or already completed.
Just this month, I was working on an Online Reputation Audit for a new client. Their main concern coming in was focused on some negative content items that have been clogging up the SERPs for their brand keywords. And this was a tough challenge, because those negative news items were on very strong domains.
Realizing Negative SEO Was At Play
As I began to roll up my sleeves and analyze the SERPs in detail, I started seeing some very alarming signals. So naturally, the first thing I turned to was an SEO Audit. As that audit played out, I began to realize that the negative content items on their SERPs were only part of the problem.
You see, if Negative SEO was involved, the road to address the SERPs themselves could be hindered. After all, the best way to take control of page one is to have solid content on strong domains replace the entries of concern. But if those are strong domains and your own website has fallen in authority itself, we have a recipe for a long road to success.
Let's take a look at the five main steps that you can use to diagnose your own potential Negative SEO issues. Taken all together, these five factors will give you conclusive evidence one way or another about any tomfoolery with the domain's overall authority and standing with Google.
The Website Traffic Decreases Precipitously
Although this was not a clear indicator in the situation I spelled out above, we have seen it in prior analyses.
One particular client came to us claiming that they had lost 80-90% of their monthly traffic while losing page one rankings for most of their target / competitive keywords. This is what I mean by precipitously – we are not talking about a 5% drop, but something in excess of half of the organic traffic or more.
If it gets up into the 80%+ range, you can bet yourself that the second factor below is almost surely just over the horizon. So it is key to dig deeper immediately, because prevention is much better than remediation with Negative SEO attacks. Most domains never get back to the traffic levels they enjoyed prior to…
Google Issues a Manual Penguin Penalty
While this has not yet happened for our current client, sites that undergo a Negative SEO attack are surefire risks of landing a manual penalty by way of Google. And manual penalties are no joke!
Typically, when this sort of penalty is levied, you will receive a notification from Google Search Console (formerly referred to as Google Webmaster Tools). This presumes that you have actually set up and verified GSC/GWT before the penalty is doled out.
It's never a good thing to receive one of these notifications. I've analogized it to getting notice of an IRS Audit – you will have to lose productivity elsewhere to deal with it, or it could reel out of control. And you are almost surely destined to come out of it with bumps and bruises (reduction in organic traffic for Penguin, fines and penalties for the IRS audit).
At least the manual penalty makes it easy. You will have no doubt that it was because of poor, spammy, or over-optimized links in your overall link profile.
Keyword Research Turns Up Spammy, Irrelevant Keywords
Let's say traffic dropped only a little or not at all, and you've so far avoided the dreaded Google Penguin penalty. Another way that you can uncover the remnants of Negative SEO is in keyword research itself.
Anyone with a Google AdWords account can check this for themselves in the Keyword Planner. Simply copy the domain (the full domain including "HTTP://" or "HTTPS://") and drop it into the "Your Landing Page" field as shown below.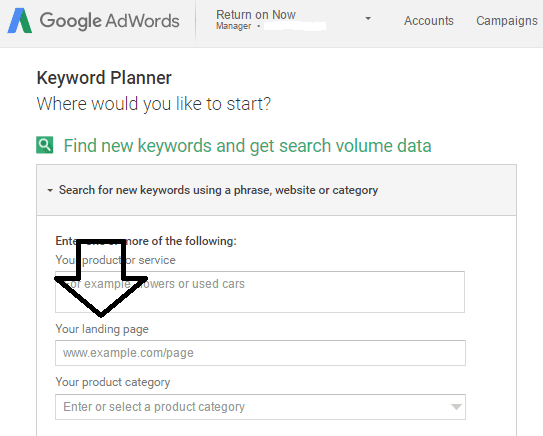 After you paste the URL  / domain into this field, simply click the "Get Ideas" blue button below the form and review the keywords that come up. Look for spammy terms focused on prescription drugs, term paper writing services, or even porn websites. Those are the three biggest topics we've run across when reviewing for Negative SEO indicators.
A Quick Link Review Uncovers Shady Backlinks
This is the easiest way to determine that Negative SEO has occurred. You can find a range of tools to "score" backlinks for things such as toxicity, but save that heavy lifting for a full link audit, assuming you conclude one is necessary.
I've found it useful to simply have a link inventory pulled together (list of all links we can identify on the web) first. Then sort according to Domain Rating, Domain Authority, or whatever metric your link crawling tool of choice uses to benchmark strength of the domain.
For anything showing as a zero or negative value in that field, do a qualitative review, i.e. "eyeball" those entries. If they all look legit, you may not have this problem after all.
But if they are a mix of very shady websites from all over the globe, it is reasonable for you to assume those links were either provided by an SEO company irresponsibly under the guise of link building, or that Negative SEO is absolutely at play. Too many of these will lead to Google Penguin complications, so start the cleanup process ASAP.
The Domain Has Many 404 Errors for Pages You Never Published
This one shows up less frequently than the other four factors, but I would be remiss to overlook it as another way to analyze the situation. It was one of the key reasons the light bulb went off during my ORM analysis in early November.
404 errors need to be addressed one way or another, primarily for link retention purposes. We always recommend that clients redirect 404 URLs to real pages, matching as closely as possible for maximum relevance. This helps ensure that their websites don't lose links during a redesign or relaunch, or when old posts/pages are removed from the site.
During the audit portion of this particular project, we found hundreds of URLs coming up as 404 errors. Every single one of them was a page the client never published, all focused on illegal purchase of prescription drugs such as viagra, cialis, and similar products. Without revealing the client's name, I can say that their industry would never publish this type of content on the website.
Just to be clear, this could have actually been a hack of their content management system. In that case, these pages actually existed at some point in the past and were live on the web. This is typically the logical conclusion if you find these pages were actually indexed (as they were in this specific case). But it could just be Negative SEO, where links from spammy domains pointed at fake pages using hyperoptimized URLs and anchor texts would suggest to Google that those keywords are relevant to the client website.
We are still diagnosing the root cause of all this, but this is a real problem that happens more often than many people want to admit.
Summary
Negative SEO is no joke. It can crush your traffic, earn you a manual penalty from Google, and make you look questionable in the rankings and SERPs. It pays to stay on top of it. If you don't feel comfortable analyzing situations like this one, bring in a professional SEO services firm like Return On Now. They can diagnose your situation faster and with more accuracy than a DIY effort, and the investment in their support will be money very well spent.
The following two tabs change content below.
As Founder and President of Return On Now, Tommy Landry provides the vision behind our SEO and SEM methodologies. With over 25 years of business experience and a deep understanding of modern internet marketing techniques, he spends his time providing hands-on consulting, insightful content, and engaging public speaking appearances to Online Marketers of all skill levels.
Latest posts by Tommy Landry (see all)