Social networking platforms run the gamut of features, usage patterns, and adoption, and Google Plus is no different. If you are in the social media marketing game, you should already know a lot about Google Plus. That includes the biggest knock on it as a social media platform – that adoption remains too low for most social marketing professionals to care.
But hey, times change and 2014 is upon us. If you haven't gotten on board with Google Plus yet, now is a great time to re-evaluate your reasons for not doing so. While you are reflecting on it, take a moment to review our reasons for using Google+ below. No matter what your overall goals are, there is a place for Google Plus in your overall strategy.
1. Google Plus Adoption Is Increasing Rapidly
Google Plus is no longer a fledgling platform aiming to get on the map. It has surpassed every other social network aside from the almighty Facebook. Multiple sources have reported this growth, going all the way back to the early part of 2013.
Take a look at the numbers from the second quarter of 2013, as reported by Jeff Bullas, below.
With such widespread and growing adoption, user engagement on the site has been on the upswing. Like all social networks, Google Plus gives you as much value as you put into it. If you spend time curating good content, connecting with the right people, and generally helping out where you can, you'll find that it isn't quite the ghost town many have made it out to be.
When you also consider Facebook's missteps regarding privacy, news feed ads, and now auto-play video advertising, the opportunity for Google Plus to kick in the door and push for the top spot is ripe for the picking. Regardless of what you think about Google, when they set their minds to achieving something significant, they hit the mark more often than not.
2. Content Indexes Quickly When Posted on Google Plus
Among the SEO sect, it is common knowledge that links posted to Google Plus are not only DoFollow (as opposed to the standard NoFollow on most social networking platforms), but they also cause the page being referenced to index very quickly. We have tested this on both our own content and others. Especially if you or your client is less knowledgeable in SEO, this is an easy way to get content crawled and indexed without having to dig into more technical items such as managing an XML sitemap or pinging the new page from a ping service.
Did you also realize that Google Plus updates themselves are automatically indexed by Google and can rank for keywords or semantic matches to the text in the update? That makes for a second SEO opportunity to rank. One thing I like to do is to share the link to the original content, which targets a primary keyword. Then add a description with another variation of the keyword to position yourself for some semantic or long tail upside.
3. Authorship Markup Improves SERP Visibility
Although studies have come out in 2013 claiming that Authorship Markup adoption is high, the reality is that most of those adopting it are within the communities of tech writing, SEO, content marketing, and similar areas. Most enterprises are still not on board fully, as it highlights individual authors rather than just pushing the brand and the company's products.
I can't stress strongly enough how much of a competitive advantage authorship can provide for your search presence. Not only does it position you as a key author / entity on Google, with special expertise in your area of focus, but it also helps increase CTR in the SERPs.
For those of you who are unfamiliar with how authorship markup modifies your SERP listings, take a look at my own listing below from Return On Now.
Similar to all the other benefits of Semantic Markup, the addition of the thumbnail in the above listing helps highlight it among the other results on the page. According to a study fielded by Catalyst Search Marketing, rich snippets such as authorship markup can improve CTR by as much as 150%!
4. There Are Some Great Google Plus Communities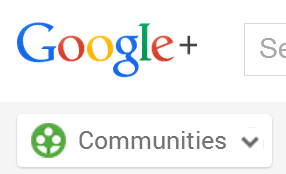 This is more from my own personal observation, but I've managed to find some great and vibrant communities that stay active on Google Plus. Similar to Facebook Groups and LinkedIn Groups, not all communities are a hit. Some of them start off with a lot of momentum but fall off a cliff in short order. Others stay active intermittently, but not enough to stay top of mind.
And then there are the groups that curate participants and content carefully, have great moderators, and incite a great deal of useful conversation. I have at least two solid SEO groups on Google Plus that are great for discussing the latest Google algorithm antics and the best ways to manage semantic markup for SERP visibility. Yes, they are uber-geeky topics, but surely you can find at least one or two communities of value in your own area of focus. For me, this stuff is fascinating and important.
5. Google Plus Activity Already Impacts Local SEO
I recently came across a guest post on Search Engine Journal by Sergiu Draganus, which summarized a study to identify what the most important ranking factors were for the local carousel. The results were very interesting to say the least.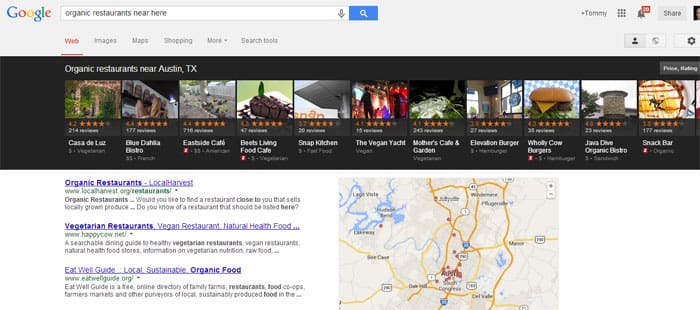 Google properties, including Google Plus, are incredibly important to the carousel. They are also very impactful on the 7-pack of local results, which is still important when it appears in the SERPs. Check out Sergiu's overarching observations from the data he collected below:
The correlation chart indicates that Google considers its own factors as the most important:

qty of +1-es on Google+ Business Page
qty of +1-es on URL
number of reviews on Google+
number of citations
rating score in Google+
As you can see, nearly all of the top factors are related to Google Plus. If you operate a local store or other facility where customers can visit you, it would be in your best interest to start taking Google Plus / Pages and your overall Local SEO strategy seriously heading into 2014.
6. Publisher Markup: Poised To Make An Impact
Are you aware of what Publisher Markup is? Similar to Authorship Authority, Google is clearly analyzing ways to assign authority to publishers, i.e. websites across the web.
As of now, publisher markup is available and recommended but not really impacting SERPs or ranking in any discernible manner. However, the very fact that Google has established it has rather large potential implications.
For one, it allows website owners to verify that they are real entities with Google, much like authors can establish themselves as individual entities. While that has value for verification of authenticity (a key component of the Google Plus strategy), I am convinced that there is more to it.
Many of us write for multiple websites. For example, I write my own content on Return On Now, but also contribute to Search Engine Journal, CMSwire, Social Media Today, and other websites. Since there is no clear hierarchy of ownership between a publisher and an author, Google needs some way to verify identities without forcing one entity to be a subset of another.
Enter Publisher Authority.
If your website is a verified entity and you are a verified entity, then Google can one day start incorporating rankings according to both website and author authority. They keep telling us not to worry about PageRank and other legacy authority metrics, and I'm convinced that this is the center of a new authority measurement system they have in the works.
Summary
There are many more reasons to consider using Google Plus more actively, but these six are enough to keep me engaged with the platform. If I am right about the publisher authority commentary above, 2014 is stacking up to be a very important year in the evolution of SEO and Google's ranking approach. I, for one, can't wait to see where this all takes us.
Now go sign up for Google Plus already!
The following two tabs change content below.
As Founder and President of Return On Now, Tommy Landry provides the vision behind our SEO and SEM methodologies. With over 25 years of business experience and a deep understanding of modern internet marketing techniques, he spends his time providing hands-on consulting, insightful content, and engaging public speaking appearances to Online Marketers of all skill levels.
Latest posts by Tommy Landry (see all)