If you ever wondered what local SEO is and how it figures in your business's standing, you've come to the right place. In this post, we will explain every element of local SEO.
Image Source: SEO insights
What is Local SEO?
Local SEO works as a marketing tool for promoting your local business in a given geographical location. Since your business has a corresponding physical location, potential customers will be able to easily locate it on the map pack.
Examples of typical businesses that can benefit from local SEO include restaurants, spas, beauty salons, hardware services, etc. When set up and optimized properly, these companies can succeed at showing up on the maps for important search terms.
Why Do You Need Local SEO?
For any locally serving enterprise or single-location store, Local SEO is one of the most important strategies to engage in. It's simply the best way to be found in a local market, and highly likely to show positive return on investment for your efforts.
A lot of locals may not know about your business. Local SEO can help you get in front of them when they search for services or products like your offering. And in turn, this should increase website traffic as well as in-person visits to your physical facility.
And the more customers you have, the more reach you can invest in. Not to mention the referrals you may earn by satisfied new customers!
What is a Local Search?
Local search occurs when an individual residing in the same location as your business enters a search query regarding a topic that includes your line of work. For instance, if a person in the vicinity enters a search result for a beauty salon, and there is a newly opened store available in the listings, it will pop up in the search results.
Hence, local search fulfills the local demands and increases the earning potential of local businesses. Also, the searches have to be strategic. If the search query is generalized, then a lot of options will appear on the results page. However, after narrowing down your search and using words like 'nearby' or 'around me,' you will get notified about the local ones.
What are Local SERPs?
The acronym SERP means Search Engine Results Pages. When the prefix local is added before the term, the results available from a local source will appear on the page.
To localize the results further, you can apply the appropriate filters and improve the search criteria. For your business to have an organic ranking on the first page of the search results, it is ideal to have your business on Google My Business. It is also important for you to fit into the parameters and notifications that appear when searched with intent by the consumers.
How Does the Google Local Algorithm Work?
Algorithms are about  more than simply the array of generated code and calculations. The algorithms are programmed explicitly to determine what appears in the search results and how they rank on the SERPs. More specifically, it depends upon the presence of keywords in the search query, the filters applied, and the search context.
Although it might look relatively simple, the process is time-consuming and full of complexities. The local algorithm is a separate entity from that of the standard organic rankings, and it operates using different variables and attributes.
So bottom line: you need to optimize for local search separately from the standard rankings.
When you look closely, the algorithm emphasizes the following three factors: Relevance, Proximity, and Prominence.
Relevance
One of the primary elements of the standard Google algorithm is the relevancy factor. Also, there are many ways in which you can make your business more relevant to the search results.
You can add meta descriptions, image alt tags, schema, links, and industry-specific details. If you follow the steps and stick to the expert advice, you will fast-track your position and associated relevancy.
Proximity
Another essential ranking factor is the location attribute. After all, if you require a local service or business, you only want to see options within a reasonable distance of your current location.
This is one of the driving factors behind Google Local Maps rankings. If you are nearby, the SERP is more likely to give you want you can use to solve whatever need you are trying to fulfill.
For eCommerce businesses, they could be further away and still show up. In this case, the results will be satisfactory if the options can fulfill reasonable delivery criteria.
If you are failing to drive results with local SEO, it's time to rethink your approach altogether. Be sure to use keywords which can highlight your proximity, perhaps things that include your city, region, or zip code in addition to relevant terms (e.g. "all natural pizza in southwest Chicago, IL" to match for searches such as "organic pizza near me").
Prominence
Another crucial factor to the SEO algorithm, both standard and local, is the importance or value of a business listing. The uniqueness of your brand helps it stand apart from the crowd.
After all, businesses with a prominent standing can be expected to be far more reliable and trustworthy. Their dependability quotient is also high. Google is a search engine that favors many factors apart from the popularity of the business. Hence, a complete and thorough analysis is essential.
You can boost a brand's prominence through strong links, positive reviews, an engaging online presence, your user experience, and so forth. Once you look into mastering these core areas, you will soon have eyes on you and your business.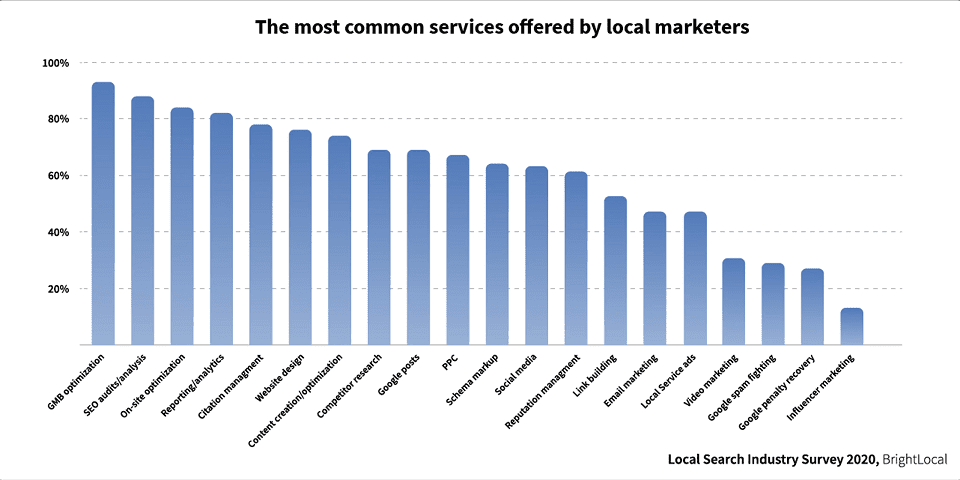 Image Source: SEO Insights
Conclusion
Hopefully this post helps you get a better understanding of Local SEO and how it works. If you focus on the right aspects of it, you can show improvement pretty quickly.
You can opt to manage this strategy internally, but sometimes you'll need more help than you can manage yourself. In that case, you can elicit the support of a local SEO company for providing a deeper level of expertise and hands-on assistance with the local SEO tactics.
---
Feature Image taken as screenshot from Google SERPs.
Disclaimer: The views and opinions stated in this post are that of the author, and Return On Now may or may not agree with any or all of the commentary.
This guest post brought to you courtesy of Return On Now, Professional Austin SEO and PPC Services Company.
The following two tabs change content below.
Sheryl Jones
Sr. Marketing Specialist
at
Uplers
Sheryl is the Sr. Marketing Specialist at
Uplers
. She has great experience in designing well-defined user journeys across the digital marketing domain. She leverages her digital marketing expertise to help businesses draw significant ROIs.
Latest posts by Sheryl Jones (see all)