Twitter: A New Kind Of Spam-bot
Today, I finally took a moment to go through my list of followers on Twitter, hoping to uncover some great new tweeps with whom I could engage. When I started going through the list, I noticed a slew of new followers who had jumped on board in the past 48 hours. Great news, right?
Wrong.
There were close to 40 new followers since yesterday afternoon. Among them, I found over 30 questionable accounts.
Here is an excerpt from my list of followers: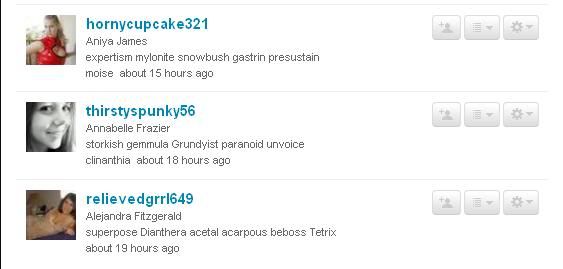 See a pattern there?
The thing that jumped out to me first was the most recent update, which Twitter has been gracious enough to add to the snippets we see on our list of followers.  In each of the 30+ accounts, their most recent tweet is comprised of a mix of real and fake words, all strung together in a manner that says absolutely nothing.
You can also see a pattern in the Twitter handles being used. Two words combine with a random string of numbers, as in "relievedgrrl649" and other (often very colorful as shown here) combinations that look to be easy to "cook up". Simply reuse a two-word handle, generate a random number value, and you're off spamming!
You may see some of these appear in your own list of followers. I took the time to block all of them today, but first I reviewed any other tweets they've made. In all cases, there were fewer than 5 tweets since the account was activated, the first tweet included a link to some "video" (porn anyone?), and they were following at least 200 tweeps (and followed by less than 100).
Avoid this new form of spam bot
Be on the lookout for this new wave of auto-spam. Hopefully Twitter can pinpoint the bot or API that is generating these malicious accounts, but in the meantime, be sure to use caution with whom you "follow back."